48 hours in New York
American author E.B. White once quipped about this city of eight million inhabitants: "New York provides not only a continuing excitation but also a spectacle that is continuing." And while he may have said this nearly a century ago, his words still ring true to this day. The City that Never Sleeps is in constant motion – yes, even at 3am – and while the surface may be always transforming, its heart never really changes. Spend a day seeing the sites in Manhattan and another day wandering the heart of global hipsterism in Brooklyn. There's no better time to take a bite out of this pulsating metropolis.
Eat
Bill Durney, pitmaster of New York's well known barbecue, Hometown Bar-B-Que, opened up this buzz-worthy spot in Red Hook, Brooklyn in spring 2019 and it's been packed ever since. New York City is the inspiration for Red Hook Tavern (329 Van Brunt St., Brooklyn; 00 1 917 966 6094) and Durney mined menus at classic Big Apple spots such as Corner Bistro, Peter Luger, and McSorley's Ale House. There's a great burger and steak as well as country ham croquettes, creamy chicken liver pate, and crispy smashed fingerlings. The excellent wine list veers to the natural variety.
Drink
In the Upper East Side isn't a destination neighbourhood except for when you go museum hopping. But cocktail bar NR (339 E. 75th Street), which opened in October 2019, is worth the journey. It was opened by the people who run the Harlem ramen and experimental cocktail spot, ROKC,  and the cocktail list here is equally envelope pushing. Gin cocktails with an awesome pistachio cream, absinthe and Thai tea, and mezcal and wasabi are but a few of the inventive libations here.
Stay
PUBLIC (215 Christie St., New York; 00 1 212 735 6000), located in Nolita, is the lovechild of a luxury dream team: hip hotelier Ian Schrager is the man behind this 29-floor, 367-room property that was designed by Swiss architects Herzog & de Meuron and super chef Jean-Georges Vongerichten runs the coterie of kitchens, including Public Kitchen which serves up Gallic-accented comfort fare with worldly flare, including garlic pepper smoked short ribs with Alsatian potato salad and grilled chili marinated shrimp with shishito peppers. These rooms are stylishly minimalist with floor-to-ceiling windows, Bang & Olufsen Bluetooth speakers and ample USB ports.
Day one
MORNING
Hit Central Park (59th St. to 110th St.) for an early-morning stroll through this 843-acre-sized patch of greenery that looks like it was carved out of the urban landscape. The beautiful park, designed by genius landscape architect Frederick Law Olmsted, is a great spot to feel submerged in nature, far from the bustle of the big city.
Try to emerge from the park on the south-east corner. That way you're only a small stroll from one of the best modern art museums in the United States (if not the world): The Museum of Modern Art (11 W. 53rd St.; 00 1 212 708 9400). The museum, best known as MoMa, has a vast collection of work by late-19th and 20th century artistic visionaries, including Van Gogh, Rousseau, Picasso, Dali, Mondrian, Warhol, Monet, Matisse, Frida Kahlo, Jasper Johns and Warhol. The best way to tackle MoMa is to take the lift to the top floor and work your way down (the most memorable works are on the top two floors).
If all that art gawking builds up an appetite, lunch is just a 10-minute walk to one of the New York-iest restaurants in New York history. Welcome to The Grill (99 E. 52nd St; 00 1 212 375 9001), where you can have a three-martini lunch in a mid-century Philip Johnson-designed dining room. The menu is classic New York City with lobster à la Newberg, pheasant Claireborne, and spring chicken à la queen getting top billing. The adjoining space, The Pool, is a fantastic spot for a cocktail.
AFTERNOON
Walk off that Big Apple meal with an amble down the High Line (Gansevoort and Washington Sts.), a very long stretch of once-abandoned elevated railroad track on Manhattan's westside (from 34th St. to the Meatpacking District) that was converted into an aerial park. It has become an instant Big Apple institution, wowing visitors and locals with its cool design that incorporates much of the natural surrounding. Start at the top of the High Line on W. 34th St. and then work your way down. That way you'll be deposited right into the atmospheric Meatpacking District.
Since the High Line spills out into the Meatpacking District and the West Village, take a breather at Té Company (163 W. 10th St.), where you can sip hard-to-find oolong teas from Taiwan and nibble on snacks made by chef Frederico Ribeiro whose logged time at multiple Michelin-starred restaurants.
LATE
When the stomach starts rumbling again, head east: Hanoi House (119 St. Marks Pl.; 00 1 212 995 5010), located in the East Village, is the best Vietnamese spot in the city. First timers should not miss the deeply complex beef-spiked pho.
Have a nightcap at Katana Kitten (531 Hudson St.; 00 1 212 243 3007), a sleek bi-level Japanese-themed cocktail bar. Sip a Negroni made with genever and aged umeshu or gin and tonic laced with shiso.
Day two
MORNING
Spend part of day two exploring Brooklyn. Get there by strolling across the Brooklyn Bridge, one of the most iconic spans in North America. The 271-ft-tall neo-gothic arches are certainly the bridge's trademark, but ambling along the elevated pedestrian walkway is a must for any visitor.
When off the bridge, walk through leafy, historic Brooklyn Heights, especially the promenade above the river that offers splendid views of the downtown Manhattan skyline. And then, point yourself toward the tree-lined atmospheric neighborhood of Cobble Hill. Here is where you'll find St. Julivert Fisherie (264 Clinton Street; 00 1 347 987 3710). Run by the husband-and-wife chef team Alex Raij and Eder Montero (who also run the excellent nearby La Vara), St. Julivert is an excellent seafood spot with an emphasis on Basque cuisine.
Work off your lunch by taking in more art at the Brooklyn Museum (200 Eastern Parkway), the second largest museum in New York City. The 1895 Beaux Arts building include works by Mark Rothko, Edward Hopper, Georgia O'Keeffe and Edgar Degas.
If you're prefer to stay outdoors, go right next door to the Brooklyn Botanic Garden (990 Washington Ave., Brooklyn), where there thousands of types of flora will take you miles away from the bustle of the Big Apple. Seek out the particularly peaceful Japanese Hill and Pond Garden.
AFTERNOON

Some post-sunset fun, head back to Manhattan. Linger for a while in Washington Square Park where bohemians and beatniks, street performers and students from nearby New York University give the place a groovy and fun vibe. On warmer days, children play in the fountain and jazz musicians thump out tunes. If the weather is not agreeable, pop into Blue Note (131 W. 3rd St.; 001 212 475 8592) where, since 1981, jazz and soul greats like Sarah Vaughn and Ray Charles, among many others, have taken the stage.
Then plant yourself at Minetta Tavern (113 MacDougal St.; 00 1 212 475 3850), a classic Big Apple spot that serves one of the best burgers and steaks in town.
LATE

Afterwards, wander a few blocks north to the new 8th St. hotspot, Existing Conditions (35 W. 8th St.; 00 1 212 203 8935), an avant-garde cocktail bar from master mixologist Dave Arnold. First timers should opt for a Manhattan, which is pre-mixed, bottled and then cooled with liquid nitrogen that will change your perception of the classic drink forever.
Luxury Living
The lavish Beekman Hotel, located way downtown, boasts spacious high-ceilinged rooms bedecked with vintage furniture and aged oak floors. Temple Court, the in-house restaurant by celeb chef Tom Colicchio, serves old-school New York fare, such as lobster Thermidor, but updated with seasonal ingredients.
Doubles from $458 (£343). 123 Nassau St.; 00 1 212 233 2300
Designer Digs
At The NoMad Hotel, French designer Jacques Garcia gives a bohemian-chic makeover to a turn-of-the-century Beaux Arts building in the Flatiron District. The 168 sumptuous rooms, two swanky bars, a vintage fireplace and a restaurant overseen by superstar chef Daniel Humm make it one of the hottest hotels in town.
Doubles from $395 (£231). 1170 Broadway New York; 00 1 212 796 1500
Budget Beauty
The 612-room Moxy Times Square is a design-friendly property with budget-conscious millennials (or those who don't mind travelling like one) in mind. The massive rooftop bar affords fabulous views.
Doubles from $139 (£105). 485 Seventh Ave.; 00 1 212 967 6699
Stop by the New York Transit Museum (99 Schermerhorn St., Brooklyn; 00 1 718 694 1600) shop to pick up some iconic items of the New York City subway system: T-shirts of your favourite metro line, Grand Central socks, and subway-themed tote bags.
N
ew York is a year-round destination with four distinct seasons. Winter can be magical, with thick snowfalls followed by cloudless skies, but also very unpredictable: one winter might regularly blanket the city in snow and the next year there will be only one giant storm. Summer is the most consistent, as the air turns sticky and humid but the warm weather brings out the fun. Spring and autumn are the optimum times to visit, highlighted by clear blue skies and a crispness to the air. October visitors will be treated to trees turning to golden red for the autumn.
Know before you go . . .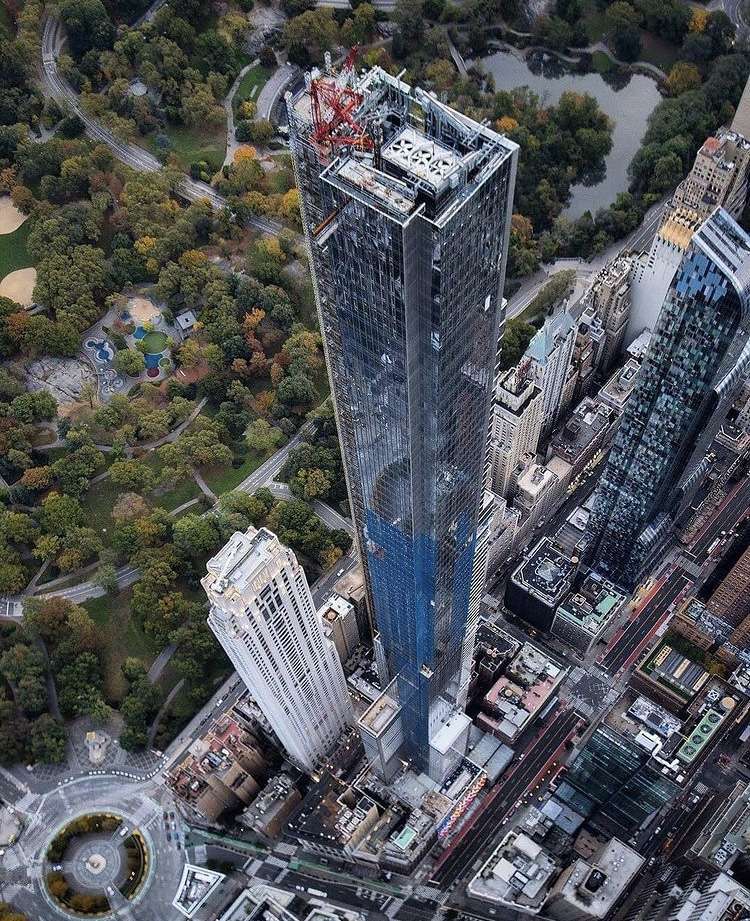 Emergency services: Dial 911
Tourist office: See nycgo.com, the website of NYC and Company, for extensive information on what's on in the city and tips on where to go. Stop by to pick up maps, leaflets and other information from the Official Visitor Information Centre (00 1 212 484 1222) at at 151 W. 34th St. between Seventh Ave. and Broadway; Open Mon-Sat, 10am-10pm; Sun, 10am-9pm; Times Square between 44th and 45th Sts; daily, 8am-7pm; Southern tip of City Hall Park; Mon-Fri, 9am-6pm; Sat-Sun, 10am-5pm.
Local laws and etiquette
It is standard to tip 15-20 per cent in restaurants. Sales tax in NYC is 8.87 per cent; taxes are not included in listed shop or restaurants prices.
The basics
Currency: US dollar
Telephone code: Dial 00 1, then the three-digit number of the borough (eg, 212 for Manhattan, 718 for Brooklyn/the Bronx) for New York numbers from abroad
Time difference: New York is five hours behind London
Flight time: London to New York is approximately seven hours