The Best Things To Do & See in London!
From the hipster heart of the East End to the tree-lined avenues in the West, London is a collection of unique and individual boroughs all pulling together to create one the greatest cities on Earth.
Whether you are visiting London for business or pleasure, you will always be made to feel at home. The tourist heart of theatre land in Shaftesbury Avenue and the shopping mecca of Oxford Street are always busy, always lively, and always the place to be.
But if you want to step away from the hustle and bustle, you're never more than a few minutes away from inner city parks and open spaces. Eat lunch with the pigeons in Trafalgar Square or have a picnic with the penguins in London Zoo; London is a city for creatures from all walks of life.
Furthermore, while you are here, you must visit the Queen! Buckingham Palace is one the most iconic and revered royal buildings in the world, surrounded by a raft of equally important historical buildings that make London such a charming and fascinating destination.
If you're looking for the best hotels in London, head over to our dedicated article.
A Brief History of London
The history of London stretches back as far as Roman times, when Londinium was established as a civilian town founded on the point of the river. As a strategic location that provided easy access to much of Europe, London was used as a base for many early conflicts.
Following the fall of the Roman Empire, the Saxons took over the founding city, where it flourished for centuries until they fell at the hands of the Vikings.
Fast forward several hundred years, and the London that we know and love today really started to take shape during the 16th and 17th Centuries. While the city suffered dramatic and devastating losses during the plague of 1665 and the Fire Of London in 1666, it was still able to rise from the ashes to become a bigger and more eminent capital for the Britons than ever before.
During Edwardian and Victorian times, London was (as it still is) very much at the heart of British royalty and Government. With 2 World Wars destroying parts of the city, the one thing that never disappeared was the determination and community spirit of residents, or their love for the city they call home.
With so much history before us, and as a world-leading city for innovation, London really is the undisputed capital of the world.
Hot Tip:Want to fly to London using the minimum amount of cash? If so, check out our in-depth guide on the best ways to fly to London using points and miles!
Getting There & Around
Getting There
The city of London is easily accessible by land or air, and it is just as easy to make your way around once you get here.
Heathrow, Gatwick, Stansted, and Luton airports are all important transportation hubs, both for the UK/Europe and the rest of the world in general. With direct flights from over 190 destinations and over 650 flights a day from Heathrow alone, London airports are some of the busiest and best in the world.
London City Airport is just a few miles east of the commercial center of the city, and is well-placed to service the needs of business travelers, as well as tourists and holiday makers from certain countries.
When you land in the UK, all of the airports offer fast and efficient access to the West End and the city of London via road or rail.
From Heathrow
Train:
Heathrow Terminal 3 offers direct rail service to London Victoria Station. Trains run approximately every hour and the journey time is around 50 minutes. You can pick up one-way tickets from as little as £25.00, depending on the time of travel.
The Heathrow Express runs between London Paddington and all 4 Heathrow terminals. Trains run from just before 6:00am to 11:00pm (approx) and costs from £22.00 for a 15-minute journey.
If you find yourself turned around at the airport, use this guide for navigating between terminals at LHR.
Bus:
You can jump on a National Express Coach from Heathrow Airport Central Bus Station for a 50-minute journey into London Victoria for as little as £5 per journey. Coaches run around the clock.
From Gatwick
By Train:
Trains run from Gatwick Airport Mainline Station to London Victoria every 30 minutes and cost from around £16.00 for the 30-minute journey. Alternatively, you can travel from Gatwick to London Victoria on the dedicated Gatwick Express service from £14.00 one-way for a 30-minute journey.
By Bus:
You can catch a National Express Coach from Gatwick Airport Bus Station for the 90-minute journey into London Victoria for as little as £10 per trip. Coaches run around the clock.
From Luton
Train:
Thameslink Trains run regular services from Luton to London Victoria throughout the day. The journey takes approximately 1 hour, and prices start at £20.00 one-way.
Bus:
National Express Coaches run from Luton Airport to London Victoria regularly throughout the day, with prices from just £5 one-way for a 40-minute journey.
From Stansted
Train:
Stansted Express trains run regularly from Stansted to London Liverpool Street throughout the day. The journey takes approximately 40 minutes, and prices start from £10.00 one-way.
Bus:
National Express Coaches run from Stansted Airport to London Victoria regularly throughout the day, with prices from just £5 one-way for a 40 minute journey.
Getting Around
Tube:
London is home the world-famous London Underground system spanning the central and greater metro area. The Underground (also known as the "Tube") is one the most efficient public transport systems in the world.
First built in 1863 to service 6 intermediate stations between Paddington and Farringdon, the network now covers over 402km using 11 separate lines and stops at 270 stations.
The colored lines and easy-to-read maps make traveling on the Tube simple. Transport for London offers full details of timetables, ticket prices, and station information at www.tfl.gov.uk
Bus:
The London bus network is equally famous the world over, with its iconic red rear-entrance Routemaster double-decker buses delivering passengers throughout the city day and night.
Buses have been used on the streets of London since 1829, and although the iconic Routemaster has been retired from service on all but one route, the London bus network still undertakes over 4.4 billion journeys every year.
The night bus is also available to carry weary partygoers back home all night long. Again, Transport for London offers full details of timetables, ticket prices, and station information at www.tfl.gov.uk.
 Taxi:
Black cabs are a familiar sight on the streets of London, and they are an integral part of the capitol's culture and community. Black cabs can be hailed on sight from anywhere in the city, and their drivers are legendary for having friendly personalities and extensive general knowledge.
Alternatively, you can call up an Uber and book where you want to go and when by using the app on your smartphone.
Payment:
Cabs, Ubers, and other private hire vehicles will accept most forms of payment, including cash, credit, or debit card. Most taxis can also be pre-booked using any form of electronic payment.
The London Underground and London buses, however, are accessed using a pre-payment Oyster Card that can be purchased during your stay and topped up as necessary. You can also use a contactless credit or debit card on the Underground system.
Hot Tip: Don't forget to use a card abroad that'll earn you lots of valuable points – such as the Chase Sapphire Preferred® Card which earns you 2pts per $1 spent on ALL travel and dining purchases. This is our #1 recommended card. But – at the very least, do make sure you're using a credit card that has no foreign transaction fees! Finally, make use of all the lounges opportunities that are available at London Heathrow, Gatwick and Stansted by having a credit card that gets you airport lounge access – it'll make for a much more relaxing experience at the airport.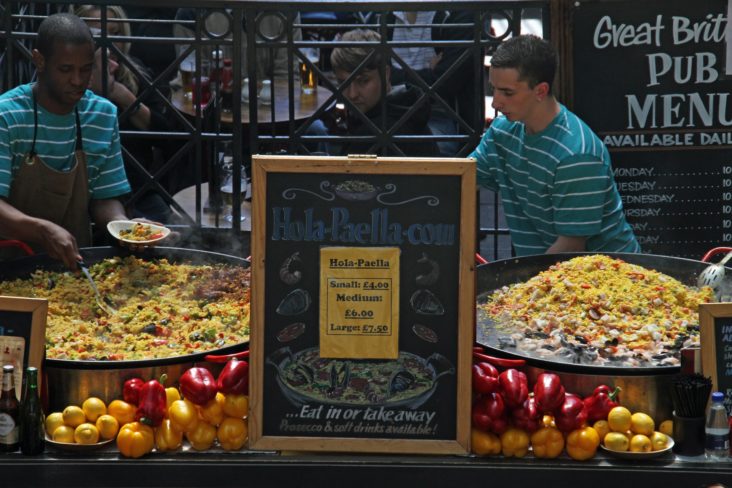 Top 10 Neighborhoods you will enjoy visiting in London
It's true what they say: a man could truly lose himself in London. To ensure that you don't, here are some of the most interesting, unusual, and downright delightful neighborhoods in London that you should definitely visit while you are there.
1. The West End, Soho, and Covent Garden
The West End of London is the beating, bustling heart of the capitol with something to see and do on every corner. Enjoy a little retail therapy in the famous shops and boutiques of Oxford Street, or rest a while in one of the many first-class restaurants or bars dotted throughout the area.
Step back from the main road to explore the avenues behind, and you will find yourself in the energetic and eclectic streets of Soho. Take in a show on Shaftesbury Avenue, or stop to see the famous digital advertising boards at Piccadilly Circus.
The West End also encompasses the wonderful Covent Garden with the Royal Opera House, Italianate piazza, and streets packed with designer boutiques and high-end bars and restaurants. The West End has some of the most iconic landmarks in London, and you can access the area from a choice of tube stations including Oxford Circus, Covent Garden, and Piccadilly Circus.
Where to stay:
Where to eat:
2. Camden
If you like cool music, people, and fashion, Camden has you covered. You won't find a more diverse, warm, or energetic part of London anywhere else. Camden may be famous for its younger vibe, but it's perfect for anyone who is young at heart. Chock full uber-cool bars, restaurants, and funky little shops, Camden is at the heart of the live music scene in London —  you can catch every kind of band here.
To really enjoy Camden, take the time to wander the streets and be sure to look in all the shops (even the strange ones!), as everybody is lovely and welcoming.
Undoubtedly its most famous attraction is Camden Market. Eclectic to the max and offering a smorgasbord of unusual gifts and funky food stalls, it even has its fair share of well-known brands like Dr Martens, Shelleys, and other stores for you to peruse and enjoy.
Camden is also about the atmosphere. You can spend a day there without spending a penny as you watch the world go by. The best tube stations to use are Chalk Farm Road or Camden Town.
Where to stay:
Where to eat:
3. Shoreditch & Spitalfields
Things don't get much more hip and trendy than they do in Shoreditch. Eye-wateringly cool and oozing with fantastic little pop-up bars plus some of the best cafes and restaurants in London, Shoreditch is a hit with hipsters of all ages.
The music scene in the area is on top of its game, and you can catch anything from a country music shindig to an electropop extravaganza in its East End streets.
Spitalfields Market on a Sunday offers cutting-edge fashion, interiors, and original artworks as well as food. Meanwhile, the ultra-chic and ultra-cool Hoxton is just around the corner with its great selection of bars, boutiques, and eateries.
Shoreditch has been heavily regenerated in recent years and is now an area of innovation, experimentation, and super fresh ideas. If you are looking for something different during your stay in London, you will probably find it here. The best station to use is probably Old Street, although Liverpool Street station is only 5 minutes away.
Where to stay:
Where to eat:
4. Peckham
While not on many visitors' itineraries, Peckham is well worth a visit as it is slowly becoming the Camden of the South. Trendy cafes, art studios, and pop-up bars are appearing everywhere…and the locals don't seem to mind one bit. If it's a bit of traditional London you're after, Peckham has that too, with plenty of pie 'n' mash shops, traditional pubs, and the odd market here and there.
Visitors hoping to see Only Fools And Horses-related things will be disappointed, however. The show may have been set here, but it was filmed elsewhere entirely.
The secret of Peckhams' success as an up-and-coming area is its diversity. All cultures meet here to share their combined love of the London vibe, making it an area that is packed full of music, food, fun, and parties.
Peckham is best reached by the overground rail network stopping at Peckham Rye Station.
Where to stay:
Where to eat:
5. Notting Hill
World-renowned for its annual Caribbean Carnival, Notting Hill is also a mecca for those who like to browse unique boutique shops. Expect hefty price tags in some shops, though, as the area is awash with money, supermodels, film stars, and directors…such is its rating on the cool scale!
The world-famous Portobello Market is close by too, where you will find a universe of street foods, fashion, curiosities, and all sorts of things to grab your attention. Saturday is the best day to visit the market, as this is when the street stalls are out. Street food in London is second to none, and this market is the epicentre of culinary greatness in the capital.
If the weather is pleasant, take a wander from Notting Hill Gate to Portobello Road and check out the quirky backstreets and pretty front gardens of the beautiful terraced houses that date back to Victorian times. The best station for the area is Notting Hill Gate.
Where to stay:
Where to eat:
6. Kensington and Chelsea
The Royal Borough of Kensington & Chelsea (to give it its proper title) is an affluent area to the west of the City of London. Bordering the Thames, the area has some lovely parks and conservation areas, as well as amazing views along the riverside.
If you like football, world-famous Chelsea FC play home games here in their enormous stadium, complete with its own 5-star hotel.
For everyone else, there are a myriad of designer shops, boutiques, super car showrooms, and beautiful people to be seen. Kensington is close enough to Harrods (with over 330 departments and 1 million sq ft of shopping!) to be worth a visit, if only to see what being a millionaire could get you.
Dining in the area is a life-defining moment (as well as a wallet-busting one), but treat yourself at least once and you won't forget it! The best tube stations are West Brompton or Fulham Broadway for Chelsea and High Street Kensington for Kensington.
Where to stay:
Where to eat:
7. Mayfair
The reason why Mayfair is the most expensive property on the Monopoly board. Take a wander around this exclusive area and you'll soon see why. Mayfair contains some of the most expensive properties in London, usually with some of the most expensive cars parked out front.
Many of the world's embassies are in Mayfair, and it can be a relaxing walk to tour the streets looking at the grand houses, hidden green spaces, and tranquil squares tucked away behind them. Hyde Park also borders the beautiful streets of Mayfair and is a stunning spot all year round.
Other local attractions include the Royal Academy of Arts and super-posh shopping strip Regents Street. As you might expect, food and drink are world-class in Mayfair, and your taste buds will thank you forever if you dine here. The best tube station to use for the area is Bond Street Station, just a short walk away.
Where to stay:
Where to eat:
8. Brixton
Colourful, lively, and vibrant are just some ways to describe Brixton. Here you'll find the always-excellent market with its street foods and amazing stalls, plus a myriad of incredible smells coming out of the various Caribbean cafes and other food outlets. You'll never not hear music coming from somewhere in Brixton, usually accompanied by laughter as Brixton residents are some of the friendliest people in London.
For gig lovers, there's the famous Brixton Academy, which always has something cool going on, though you'll have to book (usually very far) in advance. It's worth just coming down for lunch if you have a busy day elsewhere, as this really is London's finest kitchen!
When your belly is full, walk off those calories with a wander through the area and enjoy the amazing murals and artwork painted throughout the neighborhood. The nearest tube for Brixton is, usefully, Brixton, which sits at the end of the Victoria Line.
Where to stay:
Where to eat:
9. Greenwich
Britain invented time (sort of), and Greenwich is the place you can stand with one foot in the Eastern Hemisphere and one in the Western. It's also the place to visit Greenwich Naval College and learn about Britain's naval history, from it's earliest beginnings to the modern day.
Be sure to see the Cutty Sark too. This beautiful tea clipper was once the fastest ship in the world, and she's every bit as grand as you would expect her to be. Take a walk through the Greenwich Foot Tunnel, which runs underneath the Thames to Island Gardens on the North Shore…then take the DLR back if you don't fancy the walk again.
Greenwich also has lots of shops, cafes, bars, and restaurants, as well as a theatre. Being a historic river town, it's also handy for grabbing one of the many sightseeing boats that head upstream to Westminster and beyond.
The best station for Greenwich is Cutty Sark on the Docklands Light Railway line.
Where to stay:
Where to eat:
10. Hampstead
Hampstead is a village within a town within a city. It's a peaceful place surrounded by protected parkland, with a wonderful view down onto the London skyline below.
Hampstead Heath is the city's largest ancient wetland and park. Take a walk through picturesque Swiss Cottage, which looks exactly as it should given the name.
Stop at any number of lovely almost-countryside pubs and eateries, or check out some of the local museums. Despite feeling like you're in the depths of the English countryside, excellent transport links will whisk you back into the heart of London within minutes.
The best tube stations to use for the area are Swiss Cottage, Belsize Park, and Hampstead.
Where to stay:
Where to eat: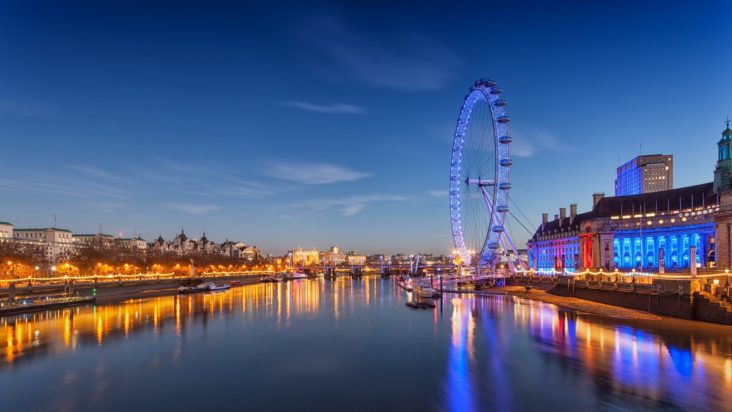 Top 10 London Attractions
London has more places to see and things to do than you could ever manage in just 1 visit. With this in mind, here are 10 of the top London attractions that you definitely should try to see on your trip.
Some of these attractions have specialized guided tours too so not only do you get to see the best of London, but you get a guide to tell you all the ins-and-outs along the way!
1. The Tower of London & Tower Bridge
The Tower of London is home to the Crown Jewels and is at the heart of much of Britain's history. Guided tours start from £14.00 per person, and the Tower and visitor center is open from 9:00am–4:30pm almost all year round.
From the Tower you can see what is arguably the most famous bridge in the world. Opened in 1894, Tower Bridge is particularly impressive when it opens to let river traffic pass below. London Bridge walkways and visitor center are open daily and cost £8.70 per person. The nearest Tube station for both attractions is Tower Hill.
2. Buckingham Palace & the Changing of the Guard
Buckingham Palace is the London home of the British monarchy and a much loved tourist attraction. Visitors can tour the famous State Rooms from July to September, and the Changing of the Guard can be seen from 11:00-11:45am on Monday, Wednesday, Friday, and Sunday from January to March, weather permitting.
For guided tours you can expect to pay £24 per adult (2018 prices), and the nearest tube stations are Victoria, St James Park, and Green Park.
3. The British Museum
Opened in 1753, the British Museum houses some of the world's greatest treasures from throughout history. You can easily spend the whole day wandering the halls and still not see everything!
The 2001 renovation of the Great Court is also worth a visit. The museum is open daily and is totally free of charge, as are all museums in London. The nearest Tube station is Tottenham Court Road, about 500 meters away.
4. Big Ben & Parliament
The Palace of Westminster, which houses Parliament, was opened in its current form in 1870, although a palace has existed on the site since 1060. St Stephen's Tower, home to the bell commonly known as Big Ben, sits at the eastern end of the palace. Various tours of the sprawling palace are available at various prices. The nearest tube station is Westminster.
5. Westminster Abbey
Opened in 1090, Westminster Abbey has hosted many royal weddings and funerals, so there are many Kings and Queens buried within the Abbey grounds. It is one of the most photogenic sites in London and sits right next to Westminster Palace. Open all year round, tickets cost £22 per adult (2018 prices). The nearest tube station is Westminster, which is a modern marvel in its own right.
6. The London Eye
For the best views of central London, take a trip on the London Eye. Opened in 2000, the giant ferris wheel will take you on a birds-eye tour of Westminster and the Thames over the course of 30 minutes. Tickets start at £25 and include entry into the 4D Cinema Experience.
The nearest tube station is Waterloo, although getting off at Westminster and walking over Westminster Bridge adds to the fun and affords some great views of the city too.
7. The Victoria & Albert Museum
Opened in 1852, the V&A Museum is one of the world's largest (and best) collections of art, design pieces, and artifacts. It's always worth checking out the website, as exhibitions and attractions change throughout the year. The museum is open daily and entry is free.
The nearest tube station is South Kensington, where the museum is just a short walk from the station through tree-lined avenues.
8. St Paul's Cathedral
The original Cathedral was opened in 1300, although the one standing today was rebuilt and reopened in 1697. It is one of the most recognizable landmarks in the world and has survived fires, plagues, and wars unscathed.
Visitors can tour this amazing feat of engineering, built by Sir Christopher Wren, and experience the delightful Whispering Gallery every day. Tickets start at £16 per adult (2018 prices), and the nearest tube station is St Paul's.
9. Tate Britain & Tate Modern
The Tate Britain opened in 1897 and today houses a massive collection of British art dating back to Tudor times, including most of the works by Turner. Entry is free and the museum is open daily year-round. The nearest tube stations are Pimlico or Westminster.
The Tate Modern was opened by Queen Elizabeth in 2000. It houses the world's largest collection of modern and contemporary art and always has special exhibitions going on. Entry is free and the gallery is open daily year-round. The nearest station is Blackfriars.
10. The London Dungeons
Opened in 1974, this horror- and history-themed attraction houses some gruesome and fun exhibits chronicling London's sometimes-bloody past. Genuinely fun for all the family, it's a must-see when visiting the capitol.
Tickets start at £21 per adult (2018 prices) and vary greatly depending on how much horror you can handle! The London Dungeons are open daily all year round. The nearest tube station is Waterloo.
Hot Tip:Don't miss out on earning valuable points and miles when you're abroad. If you don't have long until your departure, you can always sign up for an instant approval credit card which will give you the card numbers instantly!
8 Unique & Quirky Things to Do in London
If you like your sightseeing to be a little bit off the beaten track, London has plenty of unique and unusual sights for you to see.
1. Dennis Severs House
The house is a time capsule of what a silk-weavers house would have looked like in the 18th century. Put together over many years, Dennis Severs House is a fascinating and detailed museum of early London life down to the finest detail. If you like historical recreations, the house is well worth a visit.
Open most days of the week, tickets start at £15 per adult. The house is on Folgate Street and the nearest tube is Liverpool Street or Shoreditch.
2. Clowns Gallery-Museum London
Situated in a former church, the Clowns Gallery-Museum is all about everything to do with clowns, from galleries of clown faces where no 2 faces are like, to clown stained glass windows, and props and gags from throughout the ages. Rumor has it the best part of the exhibition is hidden in the basement, if you dare!
Open on the first Friday of every month, entry is free and the nearest station is Dalston Junction on the Overground.
3. Graffiti & Street Art Tour
If street art is your bag and Banksy is your boy, then this fascinating Graffiti and Street Art guided walking tour should be right up your alley. Kicking off in Shoreditch near Liverpool Street Station, this tour takes you to see some incredible pieces of graffiti and street art, with explanations and interesting facts thrown in along the way.
These tours take you deep into the heart of London, and even into areas that some Londoners may not know exist! The tour will take about 3 hours and cost you £15 per adult.5. Hackney City Farm
An oasis of calm in the middle of the East End, Hackney City Farm is home to a wide variety of rescued and abandoned animals. There are always things going on at the Farm, from art classes to conservation programs and much more. If you have little explorers with you, it is the perfect place for them to get involved and learn about caring for animals and conservation on a wider scale.
Open every day except Mondays, entry is free but they do welcome donations. Hoxton and Cambridge Heath are the nearest tube stations.
4. Kayak on the Thames
Seeing London from the river is a great way to enjoy the many different sites the city has to offer. Take the plunge and kayak along the River Thames on one of many routes past Big Ben, Tower Bridge, and Little Venice. You can even do it at night.
These guided tours are safe and undertaken by a qualified instructor. Prices vary; for example, the Big Ben and Back tour starts at £39. Based near Battersea Bridge, the nearest station for the tours is Imperial Wharf on the Overground network.
5. Chislehurst Caves
Many visitors (and some Londoners too) don't know that London actually has its very own underground cave network. Chislehurst Caves is a 22-mile long cave system that can be fully explored via a guided tour.
From London Bridge station, take the train to Chislehurst and the caves are just a short walk away. Open Wednesday to Sunday and every day during the school holidays, tours cost £6 per adult (2018 prices) and last about an hour. No booking required.
6. Stay Overnight in London Zoo
Want to see what goes on at London Zoo when everybody goes home? Now you can stay the night in a lodge and get an exclusive after-hours tour of the zoo, including dinner, breakfast, and 2 days of zoo entry. The lodges offer first class accommodation, and you will get the opportunity to see what really goes on behind the scenes at a world-class zoo and conservation center.
A stay at the Gir Lion Lodges at London Zoo costs from around £438 per lodge, based on 2 adults sharing and includes a host of extras. The nearest tube stations are Camden Town and Regents Park.
7. Lee Valley River Park
If you are feeling the need for an adrenaline rush, why not have a go at white water rafting on the very same course that was used for the London 2012 Olympics? Set within the glorious Lee Valley River Park on the northern edges of London, this massive venue hosts a myriad of outdoor activities, sporting events, and an impressive bar and restaurant to boot.
Tickets start at £50 per person (2018 prices) and are for those over 14 only. The park is open all day, every day. The nearest train station is Waltham Cross station, a 10-minute walk from the park.
8. Afternoon Tea Bus Tour
Glide around London on your very own vintage Routemaster double-decker red bus, while sipping tea and eating cakes as you take in the sights and sounds of the city from your top deck vantage point. You can choose from an Afternoon Tea Bus Tour or a Gin and Jam Tour. Prices start at £45 per adult (2018 prices). The tours depart from various locations (see website for details) and are available year-round.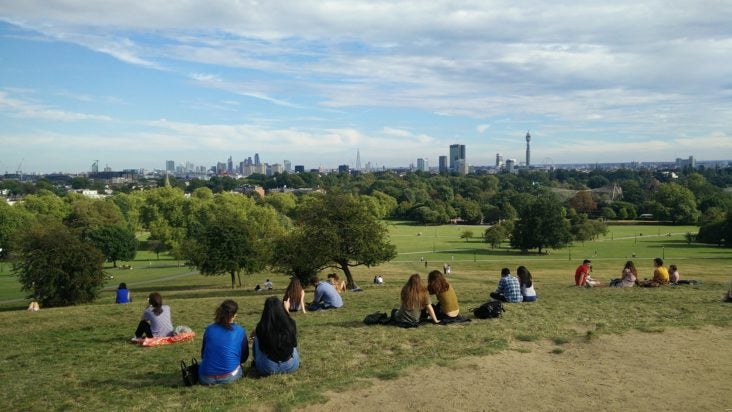 Top 10 Green Spaces & Secret Gardens in London 
London may be a densely populated city, but you are never more than a few minutes away from hidden gardens, open spaces, or a tranquil oasis perfect for a picnic lunch or a few minutes meditation.
Enjoy any one of these below, or maybe discover your own favorite space as you step away from the major tourist hotspots and explore the city at your own pace.
1. St Dunstan in the East
A stunning reminder of the strength of the city, St Dunstan in the East is the bombed out shell of this 900-year-old church. Now, it's covered with trees, ivy, and has wall climbing flowers winding through its once grand arches. Tucked away behind the city, this hidden garden is a poignant testament to the destruction the city suffered at the hands of the Luftwaffe.
The garden is open from 8:00am-4:00pm daily, and the nearest tube station is Cannon Street.
2. Kyoto Gardens in Holland Park
Find your inner Zen in the Kyoto Gardens. The gardens were donated by the Chamber of Commerce of Kyoto in recognition of the Japan Festival held in London in 1992. This peaceful and serene "park within a park" is one of London's most well known and frequented "secret" gardens.
The park is open daily from 7:30am until 30 minutes before dusk, and the nearest tube stations are Kensington High Street or Notting Hill Gate.
3. Culpeper Community Garden
Described as a "green oasis in the midst of streets, estates, and inner city bustle" the Culpeper Community Garden is a tranquil retreat for all to enjoy. Used as both a public park and an environmental community project, Culpepper Community Garden is managed by the people, for the people.
A true example of the community spirit of London, the park is open every day from 8:00am until 7:00pm. The nearest tube station is Angel.
4. Hampstead Hill Garden & Pergola
With its exotic flowers, overgrown vines, and faded grandeur, the Hampstead Pergola is both eerie and inspirational in equal parts. Formerly the home of Lord Leverhulme, the stunning raised gardens and the pergola itself are a delightful surprise set in the middle of Hampstead Heath.
The park is open daily from 8:45am until approximately 30 minutes before dusk, and the gardens are just a short walk from either Hampstead or Belsize Park stations.
5. Japanese Roof Garden
For instant tranquility in the heart of the city, the Japanese-inspired roof garden at SOAS, University of London, provides a peaceful retreat away from the hustle and bustle of busy London streets. Perfect for a spot of relaxation and meditation, the garden is accessed via the first floor of the Brunei Gallery.
The gardens are usually open 10:30am-5:00pm Tuesday to Saturday, and the nearest tube station is High Street Kensington.
6. Richmond Park
The largest of the 8 Royal Parks in London and home to over 650 deer, Richmond Park is a beautiful and vast open space in an upmarket area of West London. Popular with cyclists, runners, dog walkers, and those looking to enjoy the splendor of it all, Richmond Park is a perfect example of the quintessential English parkland.
The park is open from 7:30am until dusk all year round, and the nearest station is Richmond.
7. Epping Forest
Forging a link between London and rural Essex, Epping Forest includes 2,400 hectares of forest and open spaces offering a variety of activities all year round. You can take a walk, try cycling, go fishing, visit Queen Elizabeth's Hunting Lodge, and explore the remains of 2 large Iron Age forts tucked within the forest grounds.
The park is open all day everyday, but the visitor centers and conservation centers are open from 8:00am-3:30pm daily. The nearest station is Epping Forest.
8. Walthamstow Wetlands
A recent addition to London's vast selection of open spaces, the Walthamstow Wetlands conservation center just opened in 2017. Situated just 15 minutes from central London, the site offers 13 miles of footpaths and cycle tracks between 10 reservoirs, 8 islands, and London's largest heronry. Despite being so close to the city, it has the feel of a rural English idyll…just smack dab in the middle of London.
The Wetlands are open to the public daily from dawn to dusk, and the nearest tube station is Walthamstow.
9. Hyde Park
Perhaps the most highly regarded of all of London's parks and open spaces, Hyde Park is set right in the heart of the West End and is perfect for boating, tennis, horse riding, jogging, cycling, or just enjoying the beauty of it all. The park famously hosts festivals and live music year-round and is open daily from 5:00am until midnight.
The nearest stations are Marble Arch, Knightsbridge, or Green Park, depending on which of the park's many entrances you're heading for.
10. Regent's Park
Still resplendent with all of its Victorian grandeur, Regent's Park is the largest grass area for sports in Central London. There is plenty to do and see there, including: the famous Open Air Theatre, the extensive London Zoo, beautiful gardens, and even a boating lake. Opened to the public in 1835, it remains a perfect example of London's love of green spaces and gardens.
Open daily from 5:00am until dusk. The nearest tube station is Regent's Park.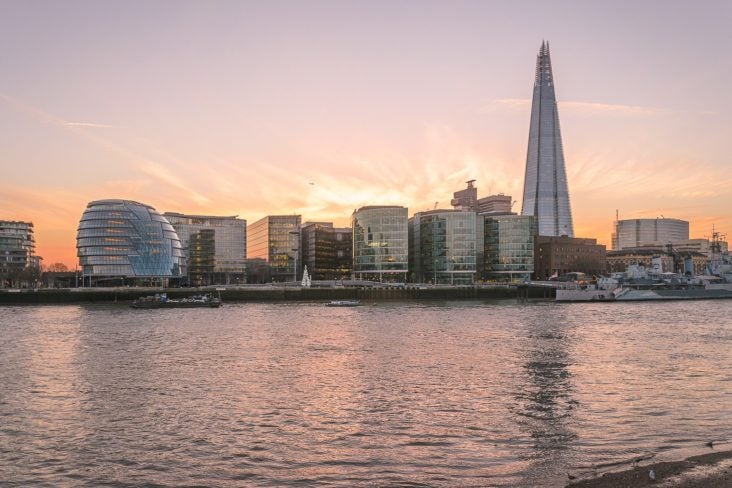 Top 10 Best Views in London
The London skyline is one the most famous in the world. With iconic modern architecture, industrial skyscrapers and historical spires all living comfortably together, London offers a whole world of opportunities above ground level.
If you are looking for the very best views of London, the sky is literally the limit. Try out some of these ideas for breathtaking vistas and unique aerial experiences.
1. The Sky Garden
Situated at 20 Fenchurch Street, The Sky Garden offers superb views across the city and beyond. The enlarged glass dome offers 3 stories of landscaped public gardens, observation decks, and an open-air terrace. Yes, gardens on top of a building — how amazing! You can book to eat and enjoy the views, or try your luck and turn up as a walk-in.
Open 10:00am-6:00pm Monday through Friday, and 11:00am-9:00pm on weekends. Bookings for free visits are released every Monday, and the nearest tube station is Monument.
2. One New Change
As a recently constructed retail development in the heart of the city, The Roof Terrace at One New Change overlooks St Paul's Cathedral and offers further views out over the city. You can visit the roof for free from 6:00am-midnight every day, or enjoy cocktails and tapas in Madison restaurant and bar. You can even book a yoga class on the roof terrace, and different events are held all year round. The nearest tube station is St Paul's.
3. The Monument
The Monument was built in 1677 to commemorate the Great Fire of London and celebrate the rebuilding of the city. It's in an iconic piece of British architecture and provides outstanding views of London in all directions from a height of about 160 feet. Due to the limited space in the viewing gallery, a maximum of 33 people are allowed inside at any one time.
Tickets cost £4.50 per adult, and the gallery is open from 9:30am-5:30pm every day, except for the December 25-26. The nearest tube stop is Monument.
4. Primrose Hill
First appropriated by Henry VIII to extend parkland available to the poor for open-air recreation, Primrose Hill is still a beautiful spot for everyone. With rolling hills and vast open spaces, it is situated 63 meters above sea level and offers views as far away as Hampstead and beyond.
The park opens at 5:00am and closing times vary throughout the year. The nearest tube stations are Chalk Farm and Swiss Cottage.
5. The Shard
The building that revolutionized the London skyline, The Shard is Western Europe's tallest building. This whopping 95-story skyscraper is one of the most recognized landmarks in London, and as you would imagine, the views from the Shard are pretty spectacular.
Offering panoramic views stretching for up to 40 miles in every direction, you can enjoy your visit with tickets starting from £29.00 per adult, or an additional £15 for a 45-minute guided tour. The Shard is open daily from 10:00am and closing times changes throughout the year. The nearest tube station is London Bridge.
6. Tower 42
Built on the site of the former NatWest Tower, Tower 42 is the third tallest skyscraper in the City of London. At the top and 600 feet above pavement level sits Vertigo 42, a champagne bar that offers some of the finest views out across the city.
You can book to enjoy champagne and tapas Monday to Saturday from noon until 2:15pm for lunch, and 5:00pm to 9:30pm for dinner. The restaurant is open until 11:00pm, and the nearest tube stations are Bank or Liverpool Street.
7. Heron Tower
Situated at 110 Bishopsgate, Heron Tower is a 230-meter skyscraper in the heart of the city. At the top are 2 highly-regarded eateries that both offer outstanding views of the city.
The Duck and Waffle is an unusual take on traditional British food and is open 24 hours a day, 7 days a week. Sushi Samba offers Japanese, Brazilian, and Peruvian cuisine from noon until 1:00am. The nearest tube station is Liverpool Street, but Heron Tower is also accessible from Bank.
8. Oxo Tower
You can enjoy fabulous views across the river from the 8th floor of the Oxo Tower if you book a table in the rather swanky Harvey Nichols Restaurant, Brasserie or Bar. The lower floors offer shops and galleries for you to explore, and the Tower is just a short walk from Southwark or Blackfriars tube stations. The restaurant is open from noon to 11:00pm daily.
9. St Paul's Cathedral
Visiting the inside of the dome of St Paul's Cathedral is a magical experience. Visitors can climb 259 steps up the dome to find The Whispering Gallery, which runs around the interior of the Dome, or go even higher to enjoy some of the most spectacular views over London from the Stone and Golden Galleries.
Admission costs £18 per adult and the Cathedral is open to the public from 8:30am-4:30pm Monday to Saturday. The nearest tube station is St Paul's.
10. Emirates Air Line
The Emirates Air Line is a cable car link that will transport you across the River Thames offering exciting views over the capitol. If you're feeling adventurous, you will enjoy this opportunity to see some of London's most iconic spots from the air.
Tickets cost £10.50 per adult and the attraction is open from 7:00am-11:00pm in summer, and closes at 9:00pm in winter. The nearest tube station is Emirates Royal Docks on the DLR line.
Top 10 London Shopping Areas & Markets
From the designer boutiques of Bond Street to the cool and quirky stalls of Camden, London truly is a shopping mecca to suit all budgets.
Whether you are looking for designer handbag or antique table, you won't struggle to find what you seek in London. Great shops, malls, and markets can be found throughout the city, but here are some of the best.
Camden Market
As eclectic as they come, Camden Market is home to secondhand clothing, furniture, and antique stalls, as well as fabulously funky food stalls, bars, and restaurants. The market is open from 10:00am daily and is just a 5-minute walk from either Camden Town or Chalk Farm stations.
Portobello Road Market
Portobello Road Market is the world's largest antiques market, and it regularly features over 1,000 dealers selling every kind of antique and collectible you could ever imagine. From tiny trinkets to one-of-a-kind furnishings, Portobello Road Market has something for everyone. The Market is open every day except Sunday. Times vary and every day is dedicated to different types of stalls.
Borough Market
Borough Market is one of Britain's finest food markets, offering fresh meat, fruit, vegetables, and delicacies from every corner of the earth. The market is held every day from 10:00am until 5:00pm (6:00pm on Fridays), although it only offers limited stalls on Mondays and Tuesdays. The nearest tube station is London Bridge Station.
Old Spitalfields Market
More of a collection of markets than just a single one, The Spitalfields Markets offer cutting-edge fashion and interiors, original artworks, and secondhand clothes and goods. There are plenty of great bars and places to eat too, so you can make a real day of your visit.
The covered Victorian hall markets are open from 10:00am-8:00pm daily, while the outside traders are there from 10:00am-5:00pm. The nearest station is Liverpool Street.
Covent Garden
Known for its beautiful architecture, open markets, and designer shops, Covent Garden is the perfect place for a bit of retail therapy. You can explore the shops in and around the Italian-style piazza, as well as the pedestrian streets surrounding it.
Most shops are open from 10:00am-7:00pm 6 days a week, and 11:00am-4:00pm on Sundays. The nearest tube station is Covent Garden.
Oxford Street
One of the most famous shopping destinations in Europe, Oxford Street offers plenty of famous brand shops and restaurants for you to enjoy. With flagship stores on almost every corner, you will not find a better selection of High Street goods anywhere in the UK. Most shops are open from 9:30am-9:30pm Monday to Saturday, and 11:30am-6:00pm on Sundays.
Carnaby Street
Once the epicenter of the swinging 60s, modern-day Carnaby Street still has plenty to offer with over 100 shops and 60 different places to eat and drink. Most shops are open from 10:00am-7:00pm Monday to Saturday, and 12:00pm-6:00pm on Sunday. The nearest tube is Oxford Circus.
Soho
The streets of Soho are jam-packed with independent fashion outlets, record stores, and vintage boutiques. Where quirky meets classy, Soho offers plenty of unusual shops, great restaurants, and late night bars and clubs.
Opening hours will vary depending on the shops you're planning to visit, with many clubs and bars staying open until the early morning hours. The nearest tube stations are Oxford Circus and Piccadilly Circus.
Bond Street
Home to some of the most prestigious shops in the West End, Bond Street boasts one of the biggest and best concentrations of designer shops in the world. If your wallet is up to the task, most shops are open 9:30am-9:30pm Monday to Saturday, and 11:30am-6:00pm on Sundays. The nearest tube station is Bond Street.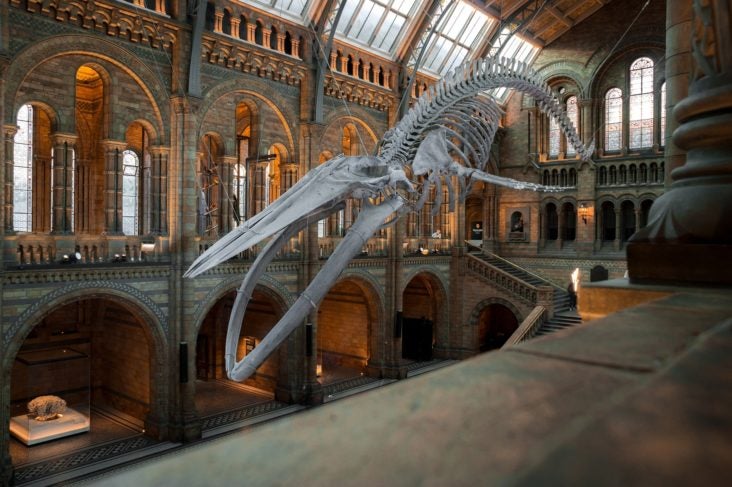 15 London Travel Hacks
A trip to London is a wonderful experience, but it can also be an expensive one. You can help to keeps costs down however, by learning a few simple budget-busting tricks from the locals. Here are just a few to get you started:
1. Skip the Tour Bus
Save money on expensive bus tours by purchasing an Oyster Card instead. At no more than £4.40 a day for unlimited bus travel, you can save yourself a fortune. Routes 11 and 453 are considered the best, as they pass some of the most iconic sites in London and still operate using iconic red Routemaster double deckers.
2. Clip at a Pace Along the Thames
Don't waste money on expensive river boat cruises, clip along instead! The Thames Clipper is a regular boat service that travels from Putney to Greenwich, taking in many of the city's prime locations along the way for as little as £4 for a single ride.
3. Travel Outside of Peak
Unless you need to commute for business, travel outside the peak hours of 6:30am-9:30am and 4:00pm-7:00pm Monday to Friday. Transport systems are very busy and fares are more expensive at these times of day, so try to avoid them when possible.
4. Avoid the Stairs
The London Underground is just that, built a long way under the ground. When it's busy and escalators are packed, don't be tempted to take the stairs! Congested stations clear quickly enough, and you would be better waiting your turn than collapsing with exhaustion after climbing hundreds of steps to street level. Convent Garden and Russell Square stations are the worst stair offenders.
5. Know Your Exits
The London Underground platforms can get very busy. Native Londoners save time and energy by getting to know where to stand to quickly board and alight from their regular journeys. If you are a visitor, keep your eye out for groups of Londoners hovered around a space on the platform; this is where the doors will be when the train pulls into the station.
6. Skip the Express Trains
Most London airports offer a dedicated "Express" service into the city. The only thing that is different about them from regular public transport is the price! For example, the Heathrow Express charges £34 to take you into central London, but you could actually jump on the Piccadilly Line for less than a fiver…the journey takes about the same amount of time.
7. Group Buying Websites
The internet has given us many great things, and group buying sites are one of its greatest blessings. Sign up to find excellent discounts for eating out and entertaining yourself in the capitol. Restaurants, theaters, attractions, and many more companies often offer discounts via Wowcher, Groupon, and many more.
8. Cheap Nights Out
Nights out in London can be pricey. Drinks, cabs, and entrance fees can quickly add up. If you are feeling cheeky enough, take some pictures of yourselves, tag your preferred venue on Instagram or Twitter, and see if the promoters will offer you a free VIP table or discounted entrance. It might not work, but it is certainly worth a try!
9. Get Cultured for Free
London may have a reputation for being expensive, but there is actually quite a lot to see and do for free. Like most museums in the UK, the Natural History Museum, the British Museum, the National Gallery, and the Tate Modern are all free to enter. Great for your cultural growth, and somewhere warm to hide from the rain!
10. Walk, Don't Tube
The tube is worth experiencing and some fares aren't particularly expensive, but don't be a slave to it. In Central London it can be just as quick to walk between Tube stations, with the average journey of 3 stops or under being equivalent to a 20-minute walk at most. Walking around helps you to save money and take in more of great sights as well.
11. Stay Outside of Zones 1-3
Central London is easily accessible from all zones. To save money, don't pay central London hotel prices; find somewhere outside of Zone 3 instead. AirBnB properties and hotel prices are always much, much cheaper outside of the central zones.
13. Snap up Bargain Theater Tickets
Theater tickets can be very expensive in London, but if you're smart you can see the best shows for a fraction of the full ticket prices. It you are between 16-25, you may be lucky enough to pick up one of the limited numbers of £5 tickets available at Cambridge Theatre (see website for details). Alternatively, matinee tickets are often much cheaper than evening performances and can be picked up at the box office of many of the theaters in town.
14. Find Free Entertainment on the South Bank
The South Bank stretches 2 square miles along the southern bank of the Thames. Every day there is a wide variety of free entertainment to be found in and around the Southbank Centre. Free lunchtime concerts at the Royal Albert Hall, free poetry, festivals, street entertainers, and lots more can be found here, along with a brilliant atmosphere and fabulous views of the river.
15. Charlotte Street: One of London's Best Kept Secrets
Charlotte Street is a hidden gem in the heart of London. In the swanky sounding area of Fitzrovia, you will find a wealth of restaurants, shops, and bars all tucked away from the main tourist areas. Undiscovered by many visitors, the area has a great vibe and is full of Londoners enjoying their hometown.
10 Fun Facts About London
London is full of unique and often surprising secrets. As a city so rich in history, there are myths and urban legends that have lived on for centuries…and many of them are actual true stories handed down over the years. Here are some of our favorites.
1. Big Ben Is Just a Bell
As one of the most iconic landmarks in London, you may be surprised to hear that "Big Ben" is actually just a big bell. The clock face and the tower it is housed in was actually just called the Clock Tower until the structure was renamed the Elizabeth Tower in 2012 to celebrate the Queen's jubilee.
2. Great Ormond Street Owns Peter Pan
The Great Ormond Street Hospital actually owns the copyright to Peter Pan and receives royalties from all associated works and performances. Author J.M. Barrie gifted the rights to this children's hospital in 1929, despite having no children of his own.
3. The City Has Plenty of Streets, But No Roads
No, that's not a riddle. Up until as recently as 1994 there were no streets named "Road" in the City of London, and today there is still only 1: Goswell Road. There are plenty of "Lanes," "Streets," and "Ways"…but public paths weren't generally referred to as roads until the 16th century.
4. Hidden Histories
Cleopatra's Needle on the Embankment houses a time capsule hidden underneath the monument. It is said to contain a capsule from 1878 with cigars, a razor, a portrait of Queen Victoria, copies of 10 daily newspapers, and pictures of 12 "English beauties of the day."
5. Abandoned Underground
Abandoned tube stations are the stuff of legends, making great film sets and venues for private parties. These include The Strand, Down Street, Brompton Road, and Mark Lane, which is now a pub.
6. Get the Knowledge
If you want to become a Black Cab driver in London you need to successfully master "The Knowledge." To complete the test you must learn all 320 basic routes, all 25,000 streets, and about 20,000 landmarks and places of interest.
7. St Paul's and the Pineapples
St Paul's Cathedral nearly had a couple of stone pineapples placed on the top of the dome. Sir Christopher Wren saw them as "a symbol of peace, prosperity, and hospitality," and he wanted them to be seen by the whole of London.
8. Pet Cemetery
Hyde Park is home to a hidden pet cemetery that is rarely open to the public. Dating back to the 1880s, the cemetery contains the remains of over 300 animals marked in graves with teeny tiny headstones. At certain times of the year, you can book a guided tour to visit this dark part of the park.
9. Keep Well in Westminster
Feeling a bit under the weather? You should probably give The Houses of Parliament a miss then. Ancient law decrees it illegal to die in the Houses of Parliament. This is thought to be because anyone who dies in a Royal Palace is eligible for a state funeral.
10. Back to Bedlam
The Bedlam asylum was one of the most popular tourist attractions of 18th century London. Visitors paid a penny to watch suffering, and entry was free on Tuesdays. Thankfully, there are now many more wonderful and politically correct things to see in the glorious city that is London.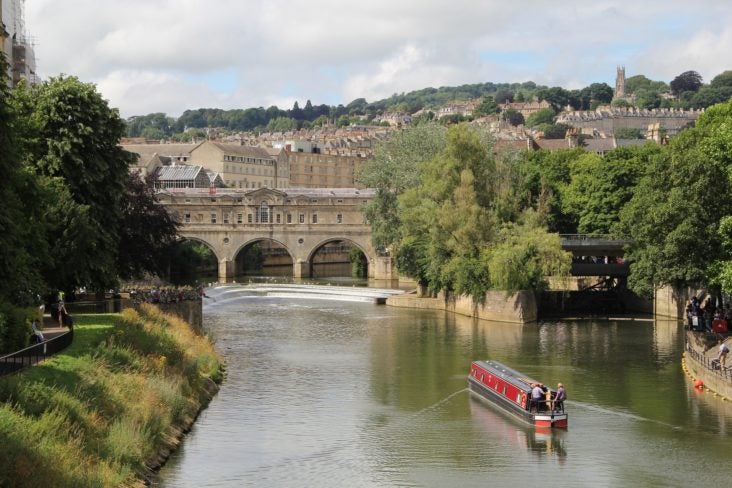 Top 5 Day Trips From London
If you've got a bit of extra time and fancy seeing a bit more of the country, here are 5 destinations you should consider within easy reach of London.
Bath
Bath is a historical city in the southwest of England. Famous for its stunning 18th-century architecture and natural hot springs, the city is surrounded by rolling English countryside. Visit the Roman baths, the majestic medieval abbey, or just spend time strolling through this beautiful British city. Perfect for a day away from London, you can reach the city of Bath by road or rail.
Trains run from London Paddington into Bath Spa station daily, and an off-peak adult ticket will cost you from £35.00 one-way for the 2-hour journey.
Stratford Upon Avon
As the birthplace of Shakespeare, Stratford Upon Avon is a world-famous market town in the county of Warwickshire. Take in a play at the Royal Shakespeare Theatre, take a barge along the Stratford Canal, or just spend your time enjoying the stunning medieval architecture that can be found throughout the town during your visit. Stratford Upon Avon can be reached by rail or road.
Trains to Stratford Upon Avon run from London Marylebone Station and the journey takes approximately 2 hours 10 minutes. Prices start from £30.00 for an off-peak adult single ticket.
Oxford
The university town of Oxford is famous for its 38 colleges, medieval architecture, students on bicycles, and plenty of stunning buildings and dreaming spires. Modern-day Oxford still centers around university life and is truly a picture-perfect town to visit. You can reach Oxford by rail or road, and the town is the gateway to the glorious Cotswolds if you want to travel further.
Trains run from London Marylebone to Oxford daily, and you can pick up an off-peak adult single ticket for as little as £25.00. The journey time is just over 1 hour 30 minutes.
Brighton
Sometimes referred to as "London On Sea," Brighton is a lively, energetic, and eclectic seaside town in East Sussex. With beautiful beaches when the sun is shining and plenty of attractions to see if it's not, Brighton makes for a great getaway from the city. Close enough to get there and back in a day, Brighton is easily reached by rail or road.
Trains run from with London Victoria or London Bridge stations and reach Brighton in just over an hour. Off-peak tickets cost as little £18.00 for a one-way journey.
Harry Potter Warner Bros Studio Tour
Opened in 2012, the Harry Potter Warner Bros Studio Tour is a very popular tourist attraction based a short distance outside London. It can get very busy, and you will need to book well in advance…but once there you get to enjoy a fun-packed day exploring the set and scenery of the world-famous Harry Potter films.
Although the studio is only located about 20 miles from Central London, there is no direct rail route or nearby station. You can take the train from London Euston to Watford for around £23.00 one-way, and catch a shuttle bus from Watford Station to the attraction. Alternatively, you can book a pre-paid coach excursion from various pickup points around the city.
For the post part, transport networks in the UK are very good. With a bit of pre-planning, you should be able to make your way all around the country using public transportation without it costing you a fortune.
Booking tickets in advance and not traveling at peak times will help reduce ticket prices and guarantee you seats. If you want to plan your journey before you visit, The Train Line, National Express Coaches, and Transport For London all offer timetables, fares, and plenty of useful advice on how best to use their services.
How to Stay Safe in London
Overall, London is a very fun, safe, and vibrant city to visit. But like all big cities, there are incidences of crime — and knowing how to protect yourself or who to call if the worst should happen is always important when visiting somewhere new.
Emergency Contacts in the UK
If you are the victim of a crime, are unwell, or need urgent assistance with a fire, call 999 or 112 to contact the police, ambulance, or fire department.
For non-urgent crimes or advice on whether you need to contact emergency services, you can dial 101 and an advisor will be able to assist you.
Information about any major incidents in the capitol will be found on the Met Police website, or follow them on Facebook or Twitter.
If you need travel information, updates of disrupted or canceled services can be found on the Transport for London website.
Keep Safe In The City
Common sense and an awareness of what is going on around you are always important in big crowds of people or densely populated areas.
To ensure you are not an easy target for pickpockets or would-be thieves, follow these simple rules:
Eating Out
Keep mobile phones, wallets, and purses safely tucked away, and never leave them in plain sight.
Keep your handbags or briefcases tucked away under your chair in bars and restaurants, or use a table clip if the venue provides one.
Never accept drinks from strangers — incidences of "spiking" are relatively low in the city, but it's always best to be cautious
Visiting Public Places
Never leave your bags unattended. Apart from the potential risk of theft, unattended items often lead to unnecessary security alerts.
Always carry your wallet or purse close to you, and never carry too much cash around. Keep bags close to you in busy areas, and carry your backpack forward facing on your chest.
Mobile phones and other devices are incredibly tempting to thieves. Ensure that you always keep yours out of sight when not in use.
Before you travel, make a note of your electronic serial numbers (ESNs).
If you do lose your valuables, dial 101 for the nearest police station. You will need to make a full report with them as soon as possible. If you lose your card or it's stolen and you don't have a backup, consider an instant approval credit card that'll show you your numbers and card details instantly online. That'll allow you to make online purchases (travel purchases such as train/airline/hotel tickets etc) without waiting for the card to come.
If you are using an ATM, be sure that there is nobody looking over your shoulder as you enter your PIN.
At Your Hotel
Always keep your passports and other valuables in a locked room safe if one is available.
Keep a note of the address of your hotel and contact number with you at all times. If you get lost, you can use this to find your way back.
Traveling on Your Own
Always have a point of contact that you check in with during your stay, whether they are in the UK or another country. London is one of the safest cities in the world, but it is good to keep in touch with folks back home.
Although most areas of London do not pose any particular threats to single (or group) travelers, use your own common sense when walking around late at night. Stay on main roads and in well-lit areas.
Always Be Aware
Just as in any busy city, incidents can occur. To help stay safe during your stay, you can do some research before you visit. Watch the National Police Chiefs' Council's (NPCC) video with advice on what to do in the rare event of a firearms or weapons attack.